HARP2 is a contributed instrument from the UMBC Earth and Space Institute to the PACE mission. HARP2 is a copy of the HARP CubeSat polarimeter payload adapted for flying and collecting data from a large spacecraft platform like PACE. HARP2 on PACE will have the capability to collect global data in two days, while the HARP CubeSat payload have important limitations in terms of amount of data that can be collected and downlinked to the ground,  The figure bellow compares the main differences between HARP2 and HARP CubeSat.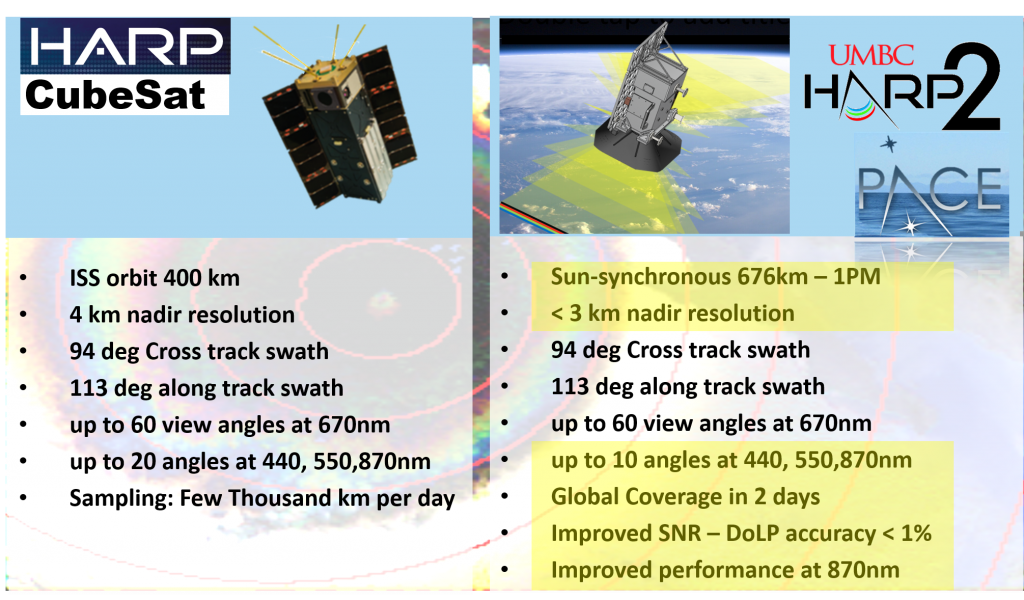 HARP2 Specifications:
– Nadir Spatial Resolution
Baseline: 1.3km along track x 2.6km cross track
Threshold: 2.6km along track x 2.6km cross track
– Spectral bands
441, 549, 669, and 873nm (nominal: 440, 550, 670 and 870nm)
14.8, 12.1, 16.2 and 42.8nm (FWHM bandwidths)
– Sampling Angles
10 angles at 441, 549 and 873nm
60 angles at 669nm
The PACE Mission:
PACE (Plankton, Aerosol, Cloud, Ocean Ecosystems) is a NASA GSFC mission dedicated to the measurement of Ocean Ecosystems, Aerosols and Clouds in the atmosphere. The main payload of PACE is the Ocean Color Instrument (OCI) with two imaging polarimeters as the main payload. Click in the Image bellow to learn more about the PACE mission.